Watts & Voltage: 95-240V

Temp Setting Range: 5-35'C

Display Temp Range: 5-99 ℃

Sensors accuracy: Temperature: +/- 0.5 ℉/0.3 ℃

Warranty: 2 year Limit

ed Warranty




Item Size: 86 * 86 * 43.4 mm

Wi-Fi - 802.11 g/b/n 

@ 2.4 GHz & supports WPA2
Display: LED electronic display
Navigation type: 

Touch screen display

Sensors: 

Internal and external sensors for floor and room temperature monitoring

Security:

 Data memory function and child lock function

Wi-Fi Response (Bluetooth® Communication)

: Tuya SmartLife Phone app, Google Home assistant and Alexa.

Phone Compatibility: 

iOS and android

Programming: 

Daily and weekly schedules

Integration: 

Amazon Echo, Google Home & device sharing

Anti-freezing function

: Yes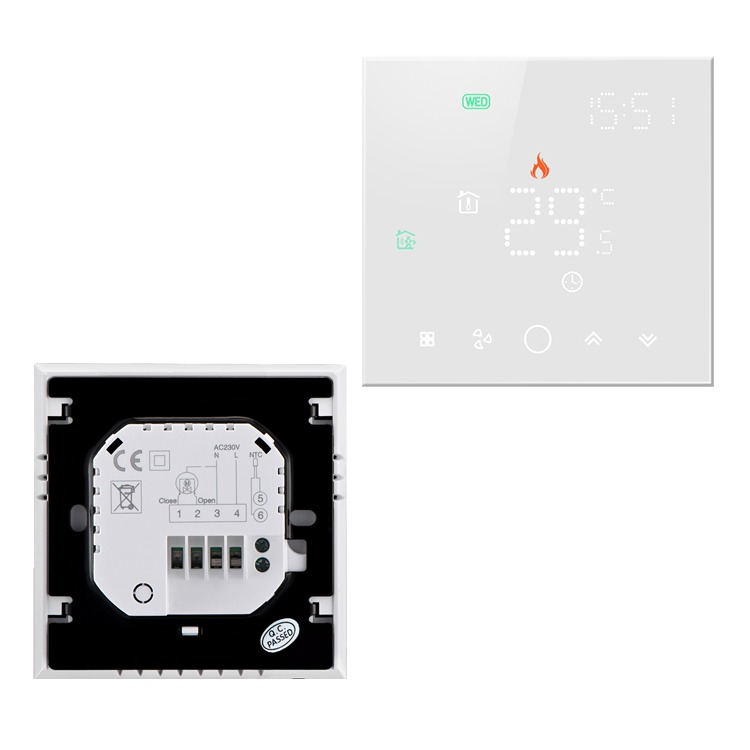 Frequently Asked Questions
Can I monitor the floor sensor & lock my smart thermostat?
Yes, you can monitor the temperature of the floor sensor by holding the arrow down button and you can lock your thermostat by holding down the menu option for 5 seconds which lets you choose the half lock option or the full lock option.
Does Smart Thermostat by Equilibria work with my brand of heater?
Our thermostat replaces your existing wall thermostat and is compatible to work with any brand of boiler, water heater, electric underfloor heater and electric baseboard heater as long as the heating system is 95-240V and is controlled at a rate of 3800W max @ 240V / 1900W max @ 120V. 

Compatible brands include Dimplex, 

Cadet, 

Stelpro, King Electric, Flexwatt and many others!
How many smart thermostats do I need? 
Each thermostat is designed to work on its own — you can start with one thermostat or two and add more as time goes on. For highest optimization of energy savings and comfort, we recommend starting with 2/3 thermostats in the rooms that matter most in your home.
Can I control multiple thermostats using my smartphone?
Yes, you can use the Tuya SmartLife app on your smartphone to control up to 20 of our thermostats at a time.
What is your returns & shipping policy?
At Wright & Perriand we have a returns and exchanges time period of 30 days from the date you receive your order alongside a 2 year warranty and a delivery period of 10-20 working days.
Is this also an RV Wi-Fi thermostat and can I connect this to multiple wireless thermostats to create a multizone?
Yes, as long as your heating system in RV suits the wiring and has Zigbee signal then it is compatible to be used as an RV Wi-Fi thermostat.
This thermostat can only control heaters in one area/zone however you can add multiple thermostats to control each zone. If you use the tuya or smart life app you'll be able to control all the thermostats from your phone however our thermostat can only control one area.
Does this thermostat require a c wire?
No, this thermostat does not require a c wire.
SHIPPING
Estimated delivery between 10-20 working days.